Oxytetracycline Tablets
Indications:
This bolus are recommended for oral administration for the control and treatment of the following diseases in beef and dairy calves caused by organisms sensitive to oxytetracycline: bacterial enteritis caused by Salmonella typhimurium and Escherichia coli (colibacillosis) and bacterial pneumonia(shipping fever complex, pasteurellosis)caused by Pasteurella multocida. For use in the treatment of gastrointestinal infections in calves caused by both tram-positive and gram-negative pathogenic bacteria sensitive to oxytetracycline.
Specification: 250mg,500mg
Dosage and Administration:
For cattle, sheep, goat, dog, camel, donkey, buffalo, poultry, horses, rabbit etc.
A broad-spectrum antibiotic for use in beef and dairy calves.
Oral: The bolus may be given either whole or crushed. Dosage must be determined by the severity of the case but in general the following dosage is recommended.
Calves: 1 bolus per 50 kg bodyweight twice daily. Treatment should be continued for approximately 5 days.
Contraindications:
Do not use in calves with functional rumens.
Do not use in cases of known hypersensitivity.
Appearance:
yellow or light yellow powder
Other name: Terramycin;4-(Dimethylamino)-1,4,4a,5,5a,6,11,12a-octahydro-3,5,6,10,12,12a-hexahydroxy-6-methyl-1,11-dioxo-2-naphthacenecarboxamide;5-Hydroxytetracycline
CAS NO. 79-57-2
EINECS NO. 201-212-8
MF C22H24N2O9
MW 460.43
InChI 1S/C22H24N2O9/c1-21(32)7-5-4-6-8(25)9(7)15(26)10-12(21)17(28)13-14(24(2)3)16(27)11(20(23)31)19(30)22(13,33)18(10)29/h4-6,12-14,17,25,27-29,32-33H,1-3H3,(H2,23,31)
Melting point 183ºC
Water solubility 0.2G/L
Specific rotation -223º(C=10.03NHCL)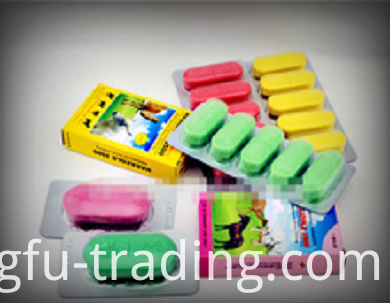 Looking for ideal Oxytetracycline Tablet Veterinary Drug Manufacturer & supplier ? We have a wide selection at great prices to help you get creative. All the Antibacterial Drug Medicine are quality guaranteed. We are China Origin Factory of
Tablet. If you have any question, please feel free to contact us.