Colistin Sulfate Veterinary Soluble Powder;Enterotoxin Syndrome Specific Medicine;Infectious Disease Prevention
Main ingredients:Colistin
Character:Colistin Sulfate Veterinary Soluble Powder is white or similar white powder
Pharmacological action:Pharmacodynamics
Colistin Sulfate Veterinary Soluble Powder is peptide antibiotics,is a kind of cationic surface active agent,through and within the bacterial cell membrane phospholipid interactions,penetrate into the bacterial cell membrane,destruction of the structure,and cause the change of the permeability of membrane,causing the death of bacteria,produce a bactericidal effect.Gram negative bacteria,aerobic bacteria,Escherichia coli,Haemophilus influenzae,Klebsiella,Pasteurella multocida,Pseudomonas aeruginosa,Salmonella,Shigella,the product has strong antimicrobial effects.The bacteria were sensitive to polymyxin little resistance.Proteus and most of Serratia is not affected by colistin.Gram positive bacteria are usually not sensitive. Colistin Sulfate Veterinary Soluble Powder is for Enterotoxin Syndrome Specific Medicine. It is Chicken Antibiotics Medicine.
Pharmacokinetic study Oral administration is hardly absorbed,but non gastrointestinal administration is absorbed rapidly.Colistin Sulfate Veterinary Soluble Powder into the body can be quickly distributed into the heart,liver,lungs,kidneys and skeletal muscle,but not easy to enter the brain spinal cord,chest,joint cavity and infectious lesions.Mainly through renal excretion. It is Antibiotic For Chickens, and Veterinary Prevention Medicine.
Drug interactions:
(1)It has a synergistic effect with the zinc 1:5.
(2)the combination of neuromuscular blockade with neuromuscular blocking agents may cause muscle weakness and apnea.
(3)With the chelating agent (EDTA) and cationic cleaning agent for Pseudomonas aeruginosa has a synergistic effect,often combined with the treatment of local infection
(4)A combination of drugs that can damage the kidney function can enhance its renal toxicity.
Indications:For preventing pig,chicken gram negative bacteria caused by intestinal infection,such sa yellow scour of newborn piglets,white scour of piglets,piglet paratyphoid,pullorum disease,Chicken Colibacillosis. It is Common Antibiotics Used In Poultry.
Usage and dosage:According to the product.Mix drink:every 1L water,chicken 0.4-1.2g;mix feed:pig,every 1kg feed,0.8-1.6g
Adverse reaction:Slime carotenoid in oral or topical administration of animals can be tolerated,systemic application may cause nephrotoxicity,neurotoxicity and neuromuscular blocking effect,colistin toxicity than polymyxin B.
Note:(1)the laying period of laying hens is disabled.
(2)continuous use should not be more than a week.
Withdrawal period:Pig,chicken seven days
Specification:5% (150 million mycetozoan unit)
Packing:100g/bottle
Storage:Shading,airtight,preserved in the dry place.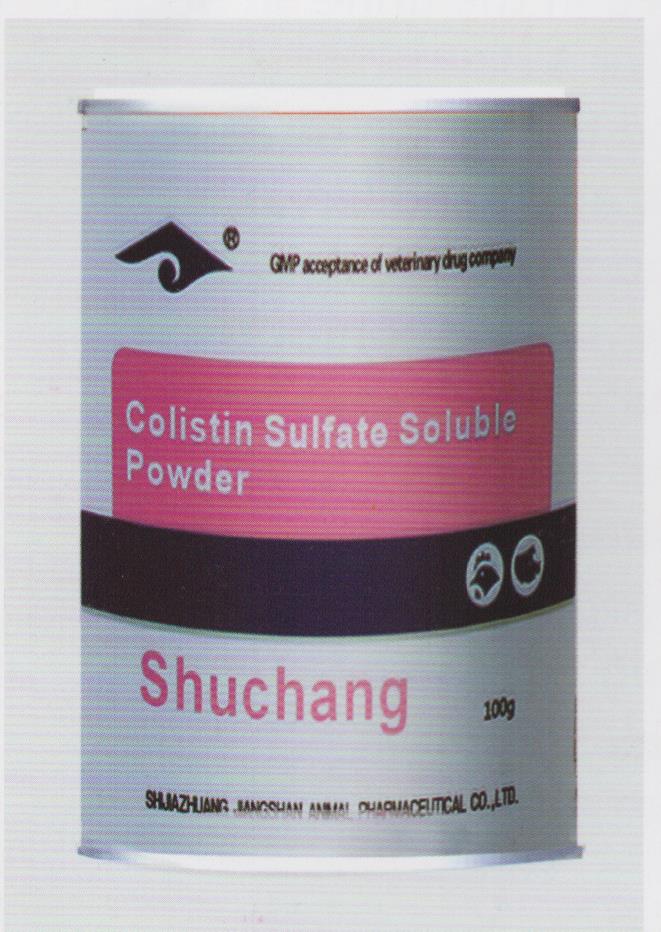 Looking for ideal Colistin Sulfate Veterinary Soluble Powder Manufacturer & supplier ? We have a wide selection at great prices to help you get creative. All the Enterotoxin Syndrome Specific Medicine are quality guaranteed. We are China Origin Factory of Infectious Disease Prevention. If you have any question, please feel free to contact us.
Product Categories : Veterinary Soluble Powder