Apramycin Sulfate Veterinary Soluble Powder;For A Variety Of Diarrhea with Special Effects;Prevention Veterinary Infectious Disease

Main ingredients:Apramycin Sulfate
Character:Apramycin Sulfate Veterinary Soluble Powder is light yellow to brown powder.
Pharmacological action:Pharmacodynamics
Apramycin Sulfate Veterinary Soluble Powder is an aminoglycoside antibiotic,a variety of gram negative bacteria (such as Escherichia coli,Pseudomonas aeruginosa,Salmonella,Klebsiella,proteus,Pasteurella,hyodysenteriae,bronchitis from Bordetella) and Staphylococcus aureus and Mycoplasma have bactericidal activity.The chemical structure of Apramycin resistance by a variety of unique plasmid encoding enzyme inactivation,and gram negative bacteria to less resistant pathogenic Escherichia coli and Salmonella isolated from many animal is sensitive to it.Apramycin and other aminoglycosides has no cross resistance caused by chromosomal mutations. It is Common Antibiotics Used In Poultry.
Pharmacokinetic study Oral administration can absorb part(especially the newborn),uptake of the same dose,and decreases with the age of animal growth.In the original form of drug excreted by the kidney.The calf has a half-life of 4.4 hours,sheep,rabbit,chicken has a half-life of 0.8 to 1.7 hours. It is Veterinary Prevention Medicine.
Drug interactions:
(1)Apramycin Sulfate Veterinary Soluble Powder have a synergistic effect in combination with penicillins or cephalosporins. It is Antibiotic For Chickens.
(2)Apramycin Sulfate Veterinary Soluble Powder in alkaline environment enhanced antibacterial effect,and basic drugs(such as sodium bicarbonate,aminophylline and other combination) can enhance the antibacterial effect,but the toxicity increasing.When pH is more than 8.4,antibacterial effect was weakened.
(3)with rust contact can make the drug inactivation.
(4)with cephalosporins,dextran,potent diuretics(such as furosemide),erythromycin combination,can enhance the ototoxicity.
(5)skeletal muscle relaxant (such as succinylcholine chloride etc.) or with the effect of the drug can enhance the neuromuscular blocking effect of this product.
Indications:Apramycin Sulfate Veterinary Soluble Powder is mainly used in the treatment of gram negative bacterial infections of livestock and poultry,such as yellow scour of piglets,piglets with diarrhoea,colibacillosis,paratyphoid;colibacillosis and Pullorosis. It is Chicken Antibiotics Medicine.
Usage and dosage:Mixed drink:1L water,chicken 0.625~1.25g,for 5 days;every 1kg weight,pig 0.03125g,for 7 days.
Adverse reaction:
(1)Apramycin sulfate most often caused by vestibular damage,the damage with the continuous administration of the drug accumulation and increased in a dose-dependent manner.
(2)excessive doses can lead to neuromuscular blocking effect.
(3)long term use can cause kidney damage.
Note:(1)the drug in case of rust prone to failure,mixed feeding machinery should pay attention to not rust,trace elements and the preparation of mixed use.
(2)the laying hens disabled.
(3)drinking water administration must be prepared that day.
Withdrawal period:Pig 21,chicken for 7 days.
Specificatioin:100g:40g(40 million units)
Packing:100g*50bag
Storage:Shading,sealed in a dry place.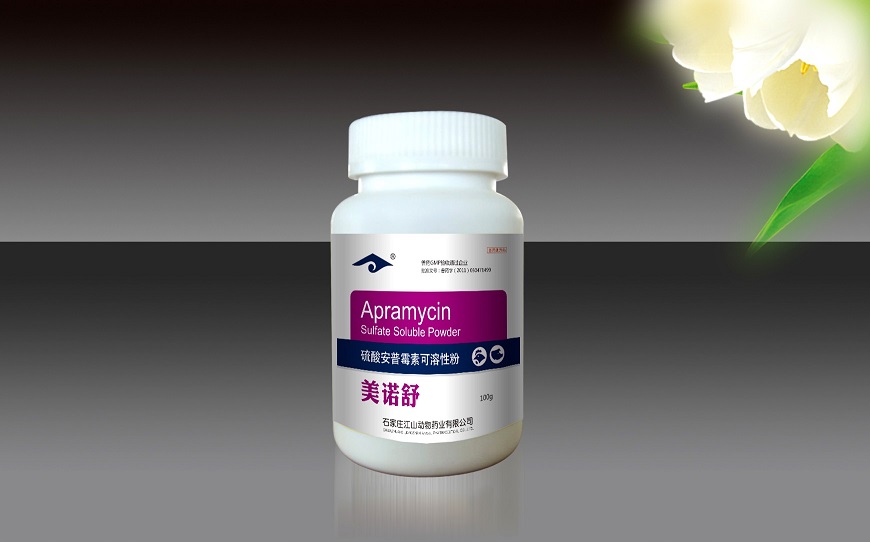 Looking for ideal Apramycin Sulfate Veterinary Soluble Powder Manufacturer & supplier ? We have a wide selection at great prices to help you get creative. All the For A Variety Of Diarrhea with Special Effects are quality guaranteed. We are China Origin Factory of Prevention Veterinary Infectious Disease. If you have any question, please feel free to contact us.
Product Categories : Veterinary Soluble Powder