Spectinomycin Hydrochloride Veterinary Soluble Powder; Infectious Disease Prevention Medicine; Special Medicine For Respiratory Disease
Main ingredients:Spectinomycin hydrochloride
Character:This product is white or similar white powder.
Features:
1.Spectinomycin Hydrochloride Veterinary Soluble Powder is using Nano-coating technology.
2. Spectinomycin Hydrochloride Veterinary Soluble Powder is using Targeting technology.
3. Spectinomycin Hydrochloride Veterinary Soluble Powder is using Solid dispersion technology.
4. Spectinomycin Hydrochloride Veterinary Soluble Powder is using Patent production line.
Pharmacological action:Pharmacodynamics Spectinomycin belongs to aminoglycoside antibiotics,a variety of gram negative bacteria,such as Escherichia coli,Salmonella,Shigella,proteus have moderate inhibitory effect.The Sterptococcus,pneumococcus,Staphylococcus epidermidis and some Mycoplasma(such as Mycoplasma gallisepticum,mycoplasma and Mycoplasma synoviae,Mycoplasma hyorhinis,pig synovial Mycoplasma etc.)
sensitive.Not sensitive to Streptococcus and Staphylococcus aureus.Pseudomonas aeruginosa and Treponema usually resistant.Intestinal bacteria to spectinomycin resistance widely,but does not show cross resistance with streptomycin.
Pharmacokinetic study Only after the oral absorption of 7%,but maintain a high concentration in the gastrointestinal tract.Tissue concentrations of drug serum concentrations below.Not easy to enter the cerebrospinal fluid or intraocular,and plasma protein binding rate is not high.Most of the drug in the base by glomerular filtration discharge. It is Common Antibiotics Used In Poultry.
Drug interactions:
(1)with lincomycin combination,can significantly increase the antibacterial activity of Mycoplasma and expand the antimicrobial spectrum.
(2)Lincomycin and anticholinesterase drugs can reduce the efficacy of the latter. It is Veterinary Prevention Medicine.
(3)With the combination of erythromycin antagonism.
(4)In combination with opioid analgesics,can lead to prolonged respiratory depression or cause respiratory paralysis. It is Antibiotic For Chickens.
Indications:For the treatment of infection of gram negative bacteria and mycoplasma.Such as Chicken Colibacillosis,pullorum disease,chronic respiratory diseasa. It is Chicken Antibiobics Medicine, and Poultry Disease Medicine.
Usage and dosage:In the calculation of this drug.Mixed drink:1L water,chicken 1~2g.for 3~5 days.
Adverse reaction:Spectinomycin on animal toxicity is relatively small,rarely cause nephrotoxicity and ototoxicity.But like other aminoglycosides can induce neuromuscular blocking effect.
Note:spectinomycin and tetracycline,reports showed antagonism.'the laying hens disabled.
Withdrawal period:chicken 5 days.
Specification:C14H24N2O7 50g:25g(25 million units)
Packing:100*60 bottle/box
Storage:Sealed in a dry place.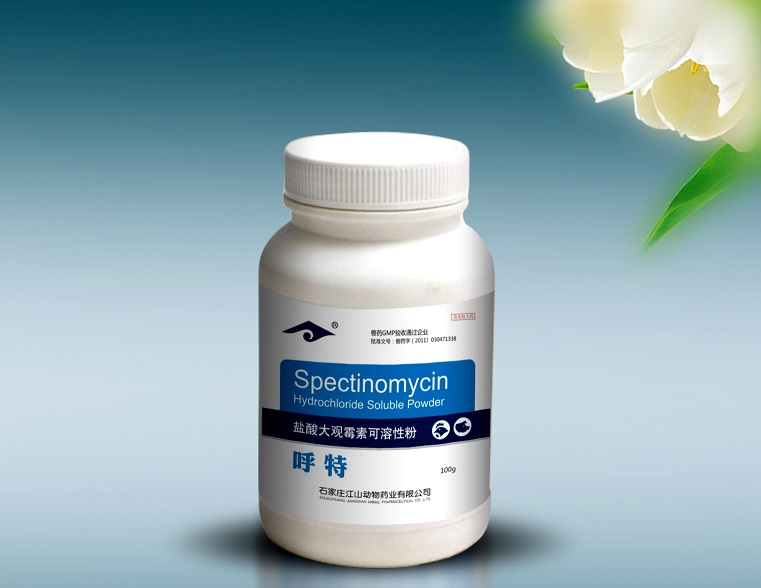 Looking for ideal Spectinomycin Hydrochloride Veterinary Soluble Powder Manufacturer & supplier ? We have a wide selection at great prices to help you get creative. All the Infectious Disease Prevention Medicine are quality guaranteed. We are China Origin Factory of Special Medicine For Respiratory Disease. If you have any question, please feel free to contact us.
Product Categories : Veterinary Soluble Powder