Norfloxacin Veterinary Soluble Powder;Norfloxacin Nicotinic Veterinary Soluble Powder;Chronic Respiratory Disease Of Chickens

Main ingredients: norfloxacin nicotinate
Character:Norfloxacin Veterinary Soluble Powder is a kind of white or light yellow crystalline powder
Pharmacological action: Pharmacodynamics Norfloxacin Veterinary Soluble Powder is bactericidal broad-spectrum antibacterial drug,on Escherichia coli,Salmonella,Klebsiella pneumoniae,Brucella,Pasteurella multocida,pleura pneumonia put line coli,erysipelas bacillus,proteus,Serratia marcescens,Corynebacterium pyogenes,septicemia Potts bacteria,Staphylococcus aureus,mycoplasma and other have a good effect,Pseudomonas aeruginosa,Streptococcus effect is weak,on anaerobic bacteria action is weak.Better antibacterial activity than nalidixic acid and Pipemidic Acid,but not enrofloxacin.This class of drugs antibacterial mechanism is role in bacterial cell DNA gyrase(type II topoisomerase),interfere with bacterial DNA replication,transcription and recombination repair,bacteria cannot normal growth and reproduction of death. It is Common Antibiotics Used In Poultry.
Pharmacokinetic study The biological utilization of the procuct is relatively low,when the chicken is taken orally for 57%~61%.,the oral dosage of 1/3 is discharged through urine,80% of which is the original drug,the half-life of the chicken is 3.7 to 12.1 hours. It is Veterinary Prevention Medcine.
Drug interactions:With the amino glycosides,broad-spectrum penicillin combination has a synergistic effect.'Ca2+,Mg2+,Fe3+,Ab3+ and other heavy metal ions and the product can occur chelate,affect the absorption.ƒThis class of drugs and theophylline,caffeine and can make the latter`s metabolic inhibition,blood theophylline,caffeine concentrations of abnormal rise,and even the emergence of theophylliine poisoning symptoms. Norfloxacin Veterinary Soluble Powder has less effect on theophylline metabolism.
Indications:for treating chicken bacterial disease and mycoplasma infections,such as Chicken Escherichia coli disease,Salmonella pullorum disease,avian Pasteurellosis,chronic respiratory disease of chickens. It is Antibiotic For Chickens.
Usage and dosage:according to the computing mixed drink per liter of water chicken 1.25~2.5g(norfloxacin nicotinate according to calculation of 125~250mg) used in conjunction with 3 to 5 days
Adverse reaction:The young animal cartilage degeneration,causing lameness and pain.'The digestive system reaction has vomiting,abdominal pain,abdominal distension.ƒThe skin reaction is erythema,itching,urticaria and photosensitive reaction and so on.
Note:the egg laying period of laying hens is disabled.
Withdrawal period:Chicken 28 days
Specification:according to the calculation of 10% norfloxacin nicotinate
Packing:100*60 bottle
Storage:light shading,airtight preservation.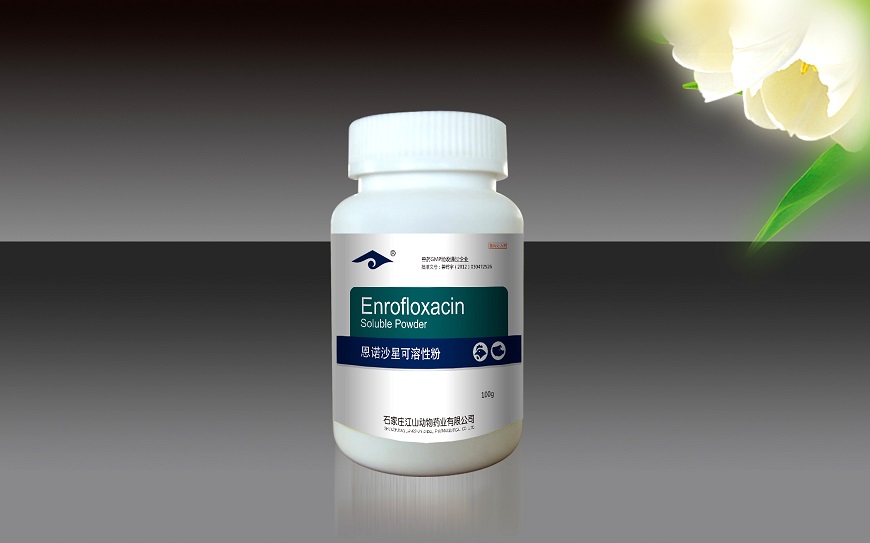 Looking for ideal Norfloxacin Veterinary Soluble Powder Manufacturer & supplier ? We have a wide selection at great prices to help you get creative. All the Norfloxacin Nicotinic Veterinary Soluble Powder are quality guaranteed. We are China Origin Factory of Chronic Respiratory Disease Of Chickens. If you have any question, please feel free to contact us.
Product Categories : Veterinary Soluble Powder