Kitasamycin Tartrate Veterinary Soluble Powder;Prevention Veterianry Infectious Disease;Oral Absorption Kitasamycin Tartrate Powder

English name: Kitasamycin Tartrate Soluble Powder
Main ingredients: kitasamycin
Character: Kitasamycin Tartrate Veterinary Soluble Powder is white or similar white powder
Pharmacological action: Pharmacodynamics The antibiotic is a big ring of the genus.The antimicrobial spectrum is similar to that of erythromycin,and the action mechanism is the same as that of erythromycin.Sensitive gram positive bacteria are Staphylococcus aureus(including penicillin resistant Staphylococcus aureus),pneumococcus,Streptococcus,Bacillus anthracis,Bacillus rhusiopathiae suis,listeria monocytogenes,Clostridium septicum,Clostridium chauvoei.The sensitive gram negative bacteria are bacillus,Streptococcus,Streptococcus,and so on.In addition,the Mycoplasma also has a good effect.On most gram positive bacteria antibacterial effect,slightly lower than that of erythromycin and Mycoplasma antimicrobial effect of approximate tylosin and some gram negative bacteria,Rickettsia,helicoid is effective and of drug-resistant staphylococcus aureus function is better than that of erythromycin and tetracycline. It is Poultry Disease Medicine, and Veterinary Prevention Medicine.
Pharmacokinetic study Oral absorption is good,after 2 hours to reach the peak concentration of blood.Widely distributed in the main organs,including liver,lung,kidney,muscle concentration is higher,often more than blood drug concentrations.It is mainly excreted by the liver and gallbladder system,and its concentration is high in the bile and feces.A small amount of urine is excreted through the kidneys. It is Antibiotic For Chickens.
Indications: By mycoplasmal pneumonia of swine,contagious pleuropneumonia,haemophilus parasuis disease,atrophic rhinitis,Streptococcus,attached to the red cell body disease caused by swine asthma,cough,dyspnea,dogs breathing,sneezing,rhinitis,turbinate bone atrophy,fever,elevated body temperature,skin redness or pale,depression,loss of appetite,joint swelling,hind limb paralysis,limping disease.
Usage and dosage: 500 grams of mixed feed 1000 kg,double treatment.
The application stage consumption Medication time
Sow 500 grams 1.during the second trimester
/tons of feed of pregnancy for 7 days,7-10 days
postpartum2,7 days a month
Weande piglets 500 grams 10 days to 3 days after weaning
/tons of feed before weaning
Growing pigs 500 grams Continuous medication for 7-10
9-13 weeks /tons of feed days
14 weeks after The 500 grams Continuous medication for 7-10
fattening stage /tons of feed days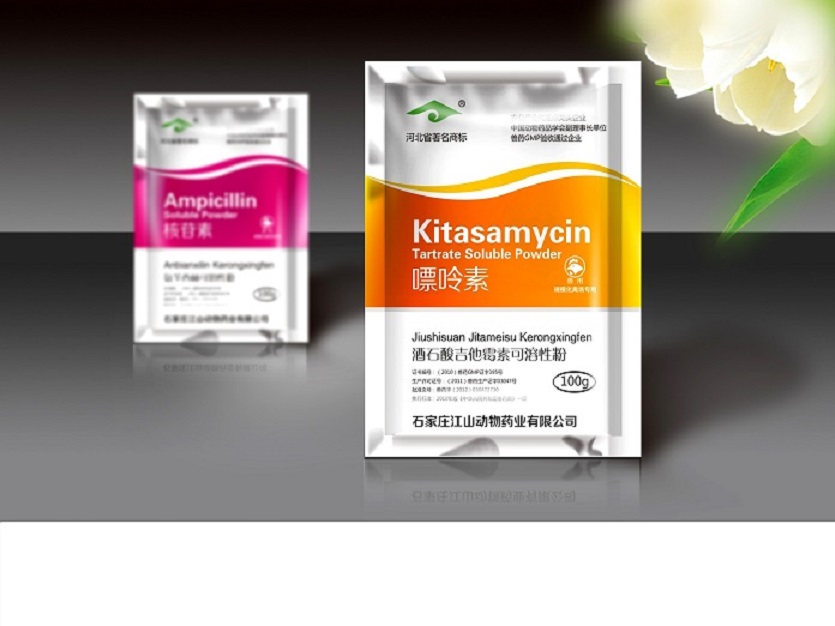 Looking for ideal Kitasamycin Tartrate Veterinary Soluble Powder Manufacturer & supplier ? We have a wide selection at great prices to help you get creative. All the Prevention Veterianry Infectious Disease are quality guaranteed. We are China Origin Factory of Oral Absorption Kitasamycin Tartrate Powder. If you have any question, please feel free to contact us.
Product Categories : Veterinary Soluble Powder