Enrofloxacin Injection Veterinary Medicine;Prevent Veterinary General Disease;Enrofloxacin Veterinary Injection For Livestock
COMPOSITION
Enrofloxacin5g
Excipients qsf 100 ml


PROPERTIES
Enrofloxacin is a synthetic, broad spectrum antimicrobial substance, belonging to the fluoroquinolone group of antibiotics. It is Veterinary Antibiotic Drug. Enrofloxacin Veterinary Drug of Injection is bactericidal in action and effective against many gram positive and gram negative bacteria and mycoplasmas. It is Common Antibiotics Used In Livestock.


INDICATIONS
Dogs and Cats :
Enrofloxacin Veterinary Injection For Livestock is indicated in the treatment of bacterial infections of the alimentary, respiratory and urogenital tracts, skin, secondary wound infections and otitis externa where clinical experience, supported where possible by sensitivity testing of the causal organism, indicates enrofloxacin as the drug of choice.
Cattle :
Diseases of the respiratory and alimentary tract of bacterial or mycoplasmal origin (e.g. pasteurellosis, mycoplasmosis, coli-bacillosis, coli-septicaemia and salmonellosis) and secondary bacterial infections subsequent to viral conditions (e.g. viral pneumonia) where clinical experience, supported where possible by sensitivity testing of the causal organism, indicates enrofloxacin as the drug of choice.
Pigs :
Diseases of the respiratory and alimentary tract of bacterial or mycoplasmal origin (e.g. pasteurellosis, actinobacillosis, mycoplasmosis, coli-bacillosis, coli-septicaemia and salmonellosis) and mulifactorial diseases such as atrophic rhinitis and enzootic pneumonia, where clinical experience, supported where possible by sensitivity testing of the causal organism, indicates enrofloxacin as the drug of choice.


CONTRA-INDICATIONS
Dogs under 1 year of age should not be treated with Bactyle 5% as damage to the articular cartilage may occur during the period of rapid growth, specifically in large breeds of dog. As a precaution very large breeds of dog should not be treated with Bactyle 5% until they are 18 months of age because of their longer growth period. Not for use in cats less than 8 weeks of age.
Bactyle 5% should not be used for prophylaxis.
Cats : Retinotoxic effects including blindness can occur when the recommended dose is exceeded. In accidental overdose there is no antidote and treatment should be symptomatic.
In target animal studies, cats have been shown to suffer ocular damage after receiving doses of more than 15mg/kg once daily for 21 consecutive days. Doses of 30mg/kg given once daily for 21 consecutive days have been shown to cause irreversible ocular damage. At 50mg/kg given once daily for 21 consecutive days, blindness can occur.
Dogs : Occasionally skin reactions have been seen after administration to kennelled greyhounds.
Do not exceed the recommended dosage.
Repeat injections should be made at different sites.
Official and local antimicrobial policies should be taken into account when the product is used.
Fluoroquinolones should be reserved for the treatment of clinical conditions which have responded poorly, or are expected to respond poorly, to other classes of antimicrobials.
Whenever possible, fluoroquinolones should only be used based on susceptibility testing.


ADMINISTRATION AND DOSAGE
Dogs and Cats :
1 ml product per10 kgbodyweight (5 mg enrofloxacin per kg bodyweight) by subcutaneous injection once daily for up to 5 days.
Cattle :
Single-Dose Therapy: 7.5 to 12.5 mg/kg of body weight (3.4 to 5.7 mL/100 lb).
Multiple-Day Therapy: 2.5 mg enrofloxacin per kg bodyweight (0.5ml/10 kg) daily by subcutaneous injection for 3 days. This rate may be doubled to 5 mg enrofloxacin per kg bodyweight (1.0 ml/10 kg) for 5 days for salmonellosis and complicated respiratory diseases.
Not more than 10 ml should be administered at the one subcutaneous injection site.
Pigs :
0.5 ml per10 kgbodyweight (2.5 mg enrofloxacin per kg bodyweight) daily by intramuscular injection for 3 days. This rate may be doubled (1 ml per10 kg; 5 mg/kg) for 5 days for salmonellosis and complicated respiratory disease. Not more than 2.5 ml should be administered at one intramuscular injection site.
Use during pregnancy and lactation : there is no restriction on the use of this product during pregnancy and lactation.


WITHDRAWAL PERIOD
MEAT
Cattle : Animals must not be slaughtered for human consumption during treatment. Animals may be slaughtered for human consumption only after 14 days from the last treatment.
Pigs : Animals must not be slaughtered for human consumption during treatment. Animals may be slaughtered for human consumption only after 10 days from the last treatment.
MILK
Not to be used in animals producing milk for human consumption.

STORAGE
Store in a dry place under 25ºC.
Following withdrawal of the first dose, use the product within 28 days.
PRESENTATIONS
Vial of 100 ml.
Keep out of reach of children.
VETERINARY USE ONLY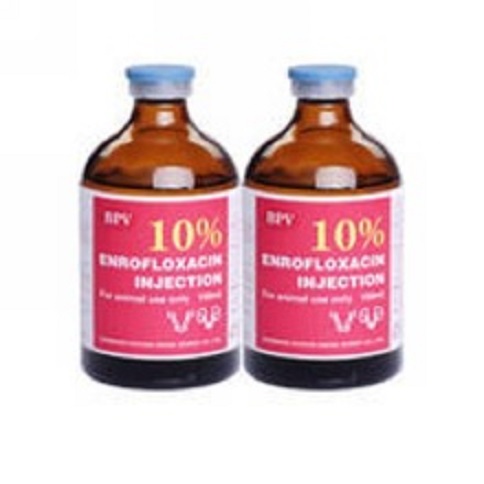 Looking for ideal Enrofloxacin Injection Veterinary Medicine Manufacturer & supplier ? We have a wide selection at great prices to help you get creative. All the Prevent Veterinary General Disease are quality guaranteed. We are China Origin Factory of Enrofloxacin Veterinary Injection For Livestock. If you have any question, please feel free to contact us.
Product Categories : Veterinary Injection